How To Make an Aluminum Shelby/Blue Thunder Intake Manifold Fit on a 71 429 Mustang with a Factory Ram Air Air Cleaner
By Robert Myhrer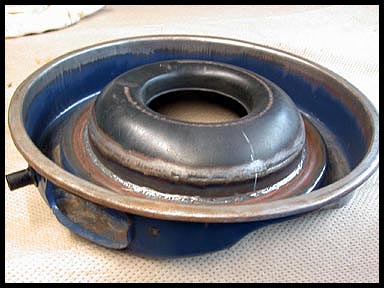 This is the air cleaner base I modified for the 429CJ/SCJ ram air Mach 1. The base is a regular production 429 base (the ram air bases are too valuable to modify). The intake is the Blue Thunder 429CJ/SCJ Shelby copy. (Shelby version shown below)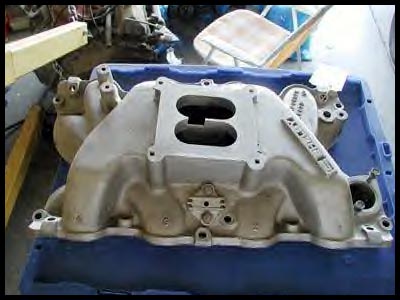 This manifold is 1" taller than stock SCJ cast iron part. The air cleaner base has had the center donut cut and a 1" diameter piece of metal added. This modification lowers the air filter, ram air seal and all outside connections (snorkel tube, breather hose to valve cover) back to their original locations. With this modification, the center donut moves closer to the inside of the 14" lid and closes up the air flow with the stock height air filter. A filter from K&N number E-3745 is 14" diameter and 1" taller than stock (and even fits the stock application) lifts the lid back to stock height. This K&N set up puts the clearance back to the "original choke housing to 14" lid bottom" dimensions so no flow is lost from stock. I had a lip added to the outside of the base to mount a factory ram air seal. This intake is supposed to add up to 27HP Blue Thunder says. I came across a D1ZF-XA SCJ Holley so I robbed the base since it will also work on my C6 or 4spd. cars. I bought a Proform 750CFM center body and bought new metering blocks for the vac.sec.Holley. Proform says that 750 body with the milled choke horn and screw-in air bleeds is worth 25-50 HP. I used the Ford bowl on the front for the factory fuel connection and the factory tube to feed the rear bowl. The Factory D1ZF carb. base gives the front PCV nipple for the factory look.
Note: Robert indicates he has not actually fully installed the aluminum intake and tried this modified air cleaner yet, but all the major steps for this modification are believed to be captured in his write-up above.
Additional photos below;
---
Weiand Stealth Intake Information
Thanks to Dan Davis for providing the comparison and measurement photos below.