Home
Martin Comey's Mach 1
Cougar Convertible
Chassis Dyno Test
Greg Wong's 429 Grande
Kevin Kozak's 429 Mach 1
Jim Ginger's 429 SCJ Mach 1
Tim Cole's 429 CJ Mach 1
John Michalek's 429 Mach 1
Jim Ginger Special Photos
John McMaster's 429 SCJ Mach 1
Summer 2007 Mustang Shows
Rick Thompson's 429 CJ
Dan Davis's 429 CJ Cougar
429's in Germany
Chris Long's 429 Cougar
Two Machs
429 SCJ from Iceland
Brent Thorp's 429 CJ Grande
Thiago's Mach 1
Russell McDowell's 429 Mach 1
Patrick Auger's Mustang
2011 Mustang Memories Show
Paul Cassel's 429 SCJ Mach 1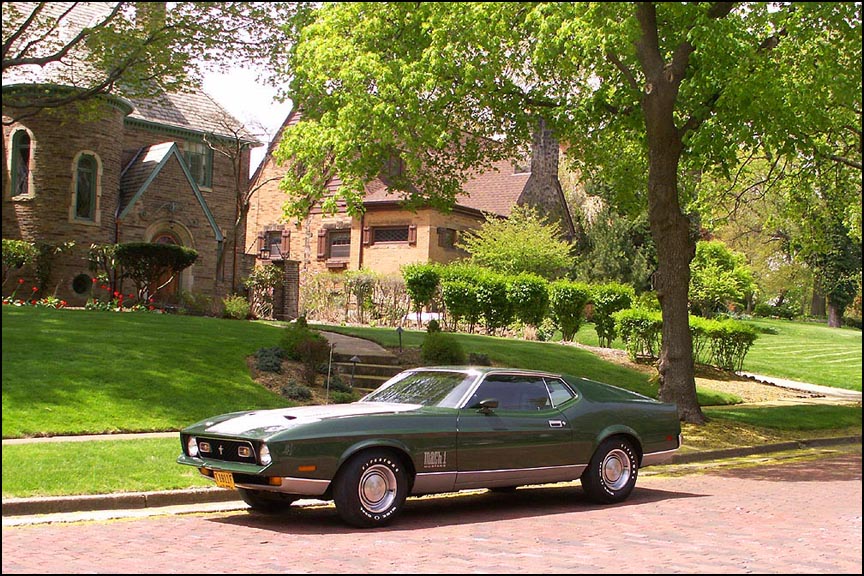 It was January of 2006 when my brother and I got word that a rare Mustang might be for sale in Mingo Junction, Ohio. We called the gentleman who had the car and confirmed that indeed, the car was for sale because his wife wanted him to start clearing out some of his collections so they could have more room in their barn. We went the next weekend and lo and behold, there was a time capsule car - a very rare 1971 Mach 1, 429 SCJ with the drag-pack option! The car only had 21,000 original miles on it, mostly put on during 1971 through 1975. The car was sitting between a 1937 original Ford business coupe, and an original 1968 red Corvette low mileage convertible. The Mustang was covered but when we inspected it, it was almost perfect. It started right up and seemed eager to head down the quarter mile one more time. We made our deal, and eagerly wanted to find out if the owner had any documentation. He had all of it. It turns out his father had ordered the car for him while he was tramping around in Army and it was waiting for him when he got back, just as he had instructed. We knew we had a real gem, probably a once in a lifetime find on our hands. We took the car home and gave it a thorough cleaning. We had the engine tuned and put in new shocks as well as a new starter motor. We put the Thermactor on the car and new (original style) tires. The car today is exactly as it was delivered in 1971. As a true documented survivor, we took it to the MCA show in Erie, PA in August 2006 and won the Gold award. The car was also shown a month later at the Glenmoor Gathering, a concur-de-elegance show in Canton, Ohio.
John McMasters