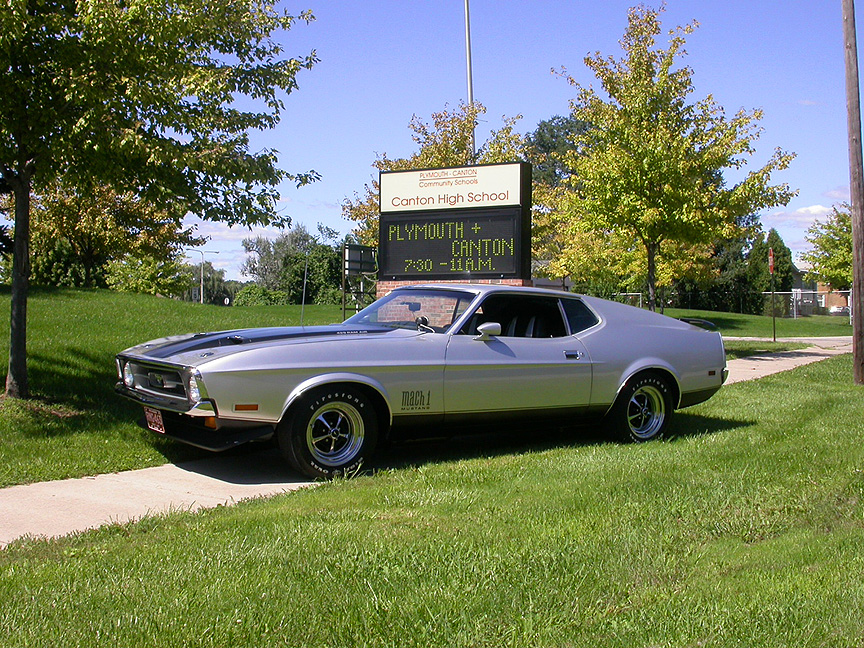 In 1998, I was 16 years old and bought my Mustang, going against my dad's wishes, for $800.00 dollars. I found the car in Algonac, Michigan while I was helping my grandpa move. The Mustang was sitting in a field in front of the owner's home. The owner said the car sat there for over 8 years and did not run. I believed him because the car was sitting on the frame. When I went to pick up the car, I had to dig out the front of it so I could put a chain on the front cross member under the engine to pull it out of the ground.
I brought the car home to show my brother and mom; my dad stated he would have it towed to the impound yard. I decided it would not be a good idea to bring the car home again and found a storage unit. I began the restoration of my car in the storage unit. I found out real fast I was going to need lots of money to fix it up; so I found a job at NPD where I was able to get a discount on parts and make good money at the same time. I was also going in to 11th grade at the time and signed up for a vocational education program. I met Mr. Bondy (Mark Bondy) after the first semester of class and he let me bring my Mustang into school to work on. Unlike my father and most of my friends whom made fun of my car calling it a "rust bucket", P. O. S. etc and told me to throw it out, Mr. Bondy helped me make my dream come true. He never gave up on me or my dream.

There is not one bolt on the car that has not been removed and replaced by me. Some of the things that I replaced and fixed on the car were: the trunk panel, tail light panel, LH&RH quarter panels, LH floor pan, deck lid, RH door, 4 front aprons, front strut cross member and the LH and RH fenders, I installed a new interior and painted the car myself. One of the hardest things I had to fix on the car was the roof. Someone had jumped on it before I owned it. The roof was concaved so far in that it was hitting the tops of the seats. I also found out that when I pulled the car out of the dirt, I bent the frame. The only way I could fix this was to pull the frame back into place; I chained the car to the floor and used a come along to pull it back into place. Since I was in an Auto body class, I was not allowed to work on engines or transmissions in class; so Mr. Bondy let me rebuild the engine and transmission for my Mustang on my lunch hours during school.
To sum it up, I spent 2 years, 11th and 12th grade, in a vocational education program during and after school restoring my dream car. If it wasn't for my Mustang, I would have never graduated from high school or college. It kept me in line and my grades high enough so that I would have the privilege of working on it at school. In June of 2000, I graduated from high school. My dream car was done. At my graduation party my father allowed my Mustang at our house for the day. I was happy it was home. My dad, mom and brother were very proud of my accomplishment. One of the things that I remember most about my graduation party was that Mr. Bondy was the first guest to show up for the party. He must have been very proud of me.
I started college in 2001 in Tennessee and for the next three years the car did not move much. In 2003 I graduated from college; my mom and brother had a graduation party for me at my brother's house and my Mustang was there sitting in the garage right were I had left it three years prior. In 2004, I bought my first house with my wife (girlfriend at the time) and the first thing that was moved into the four car garage was my Mustang. In 2006, my car was at my wedding. After my wife and I said our "I-dos", we walked down the isle of the church and jumped in my car that was parked outside, and drove off. This year, 2007, I let my wife drive my car with out me in it. She was only going to drive the car up and down our street. After the first 5 minutes had passed of her not returning, I started to get scared. After 10 minutes, I started pacing up and down the drive way. About 15 minutes later she returned with a big smile on her face, I have a feeling that she will be driving my Mustang more often now. This was the first time I had seen my car driven down the road with out me in it. It looked cool!!!!
This car has been a big part in my life. Thank you, for letting me share my story with you.
John Michalek
Pre-restoration/Restoration/Wedding photos of John's Car (click thumbnails to enlarge)
Video's of John Michalek and John Blair's Mustangs.
John Michalek - wearing his original overalls that he wore many years ago to restore his car
AFTER MARKET PARTS ON 1972 MUSTANG 429
Front Brakes
Front full metallic brake pads
Drill slotted rotors
Stainless steel brake lines
Holly roll control for locking Front brakes
Rear Brakes
SSBC Rear disc brake conversion kit
Full metallic brake pads
Drill slotted rotors
Stainless steel brake lines
Rear Differential
31 spine strange axles
2" rear wheel studs
Detroit Lock
4.11 Richmond pro gear
Driveshaft
Aluminum 3.5" diameter custom
Fuel
850CFM holly vacuum secondary carburetor
Holly Blue electric fuel pump
0-15PSI adjustable regulator
Stainless steel Fuel lines
NOS Cheater nitrous oxide system 250Hp
Rear Tires
Mickey Thompson ET drag slicks 28x12.50
Suspension
Competition engineering weld in sub frame connectors
Competition engineering 90/10 front drag shocks
Competition engineering 50/50 rear drag shocks
Competition engineering weld in traction bars
1" lowering coil springs in front
1 1/8" over size front anti sway bar
7/8" over size rear anti sway bar
All Suspension bushings have been replaced with polygraph bushings
Transmission
3500rpm stall converter
"R" racing servo
"E" lever for servo
Kevler band
15 blue clutches
15 Kolene steel disc
Transgo Shift kit
Stainless steel Transmission cooler lines
B&M Transmission cooler
B&M Megashifter
23 tooth speedo gear
Gauges
Auto meter sport comp monster shift light tachometer 5"
Auto meter Fuel Presser gauge 0-15 psi, Liquid filled 2 5/8"

Auto meter Oil presser gauge 0-100 psi, 2 2/16"

Auto meter Water temp gauge 120-280 degrees, 2 2/16 "

Auto meter Voltmeter gauge 8-18 volts, 2 2/16"

Exhaust
Hooker super competition headers Primary tubes 1 7/8" collectors 3.5"
3" H-pipe with a 2.5" cross over pipe
Flowmaster 3"in 3"out two chamber 40 series mufflers
Engine
Engine bored .60 over shock
TRW forged pop-up pistons 12:1
Edelbrock water pump
Edelbrock lifters
Edelbrock rpm performer intake
Edelbrock rpm performer camshaft
Edelbrock timing chain
Edelbrock valve springs
Crane Roller rocker arms
Cooling Fan
Cool it plastic fan
Ignition
100amp chrome generator
MSD 6AL ignition box
MSD 8.5 spark plug wires
MSD billet distributor
Battery
Rear mounted optima Red top battery