Home
Martin Comey's Mach 1
Cougar Convertible
Chassis Dyno Test
Greg Wong's 429 Grande
Kevin Kozak's 429 Mach 1
Jim Ginger's 429 SCJ Mach 1
Tim Cole's 429 CJ Mach 1
John Michalek's 429 Mach 1
Jim Ginger Special Photos
John McMaster's 429 SCJ Mach 1
Summer 2007 Mustang Shows
Rick Thompson's 429 CJ
Dan Davis's 429 CJ Cougar
429's in Germany
Chris Long's 429 Cougar
Two Machs
429 SCJ from Iceland
Brent Thorp's 429 CJ Grande
Thiago's Mach 1
Russell McDowell's 429 Mach 1
Patrick Auger's Mustang
2011 Mustang Memories Show
Paul Cassel's 429 SCJ Mach 1
Hálfdán Sigurjonsson's 429 SCJ Mustang from Iceland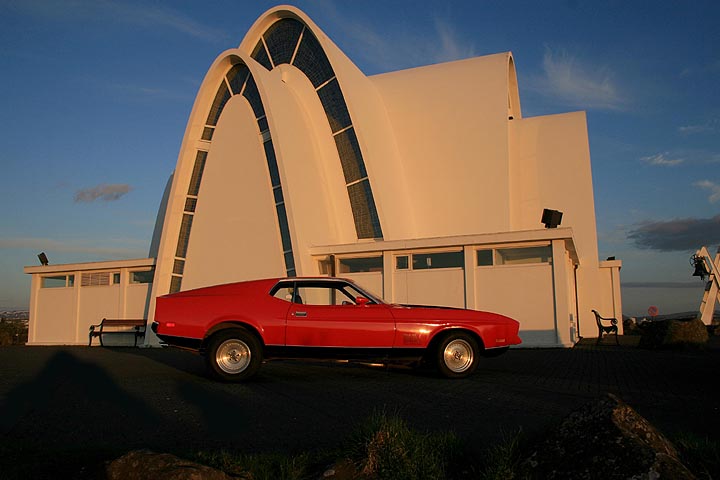 My name is Halfdan Sigurjonsson, (Halfdan please) and I'm living in Iceland. I'm an owner of a 1971 Ford Mustang with a 429 SCJ and drag pack. It's an original "J" code car and I have owned it since 1987. It's a numbers matching car and only driven 43,000 miles. I did register it in the 429 Mustang data base. I have put some pictures on Cardomain:
http://www.cardomain.com/ride/2956672
From my "Cardomain" page, you can see the story of my car from the NY harbor to present day. I have got a Marti report for the car and it says that the car is one of 531 cars. What I think is special with the car is that it only has the performance package and nothing else. The car has never been restored so it still has the original stickers on the doors. (see picture). It has the J code 429 SCJ engine, the close ratio Toploader trans, 9" with a N carrier No Spin, 4.11:1 ratio and 31 spline axles, rear sway bar, full dash and heavy duty front disc brakes. It does not have any luxury options. Also, no front spoiler or rear wing, standard interior, standard steering wheel, no power steering, no tinted glass, no side stripe, no console, etc. Every one that I have talked to tells me that this car is pretty unique and I should keep it stock. (never a question). We have one Mustang club here in Iceland, but it has not been active for some years but last year (2008), it was brought back to life and I hope it will be active for years to come. The web page is http://www.mustang.is/ and there is a new page coming soon. And yes - it is also in English! In the category of 1971-1973 Mustangs, we have three big block cars over here. Mine is the only one that is an original big block, and then we have another 1972 which is a good clone with a 429 cid SCJ engine (I don't know very much about that car - it was imported last spring). There is another 1973 Mach 1 that my foster daughter bought the summer of 2008 and it has a 460cid engine and C6 trans. That car needs a complete restoration that she and her boyfriend are going to start this winter (I'm going to keep at least on eye on that resto). I work as a photographer and a journalist here on Iceland, and I guess that's why I don't have more photos of my car that I like. I´ll try to better my self in that matter. When I bought the car it had no motor. The former owner had spun a rod bearing and he had some wild ideas about the motor (Blower and more) and he sent the motor to PCHS in New York. He was considered one of best in BBF engines. To make a long story short the former owner could never decide what he wanted so when I bought the Mustang the engine was still in pieces at PCHS. I called the owner and told him that I wanted an engine that was NHRA legal for Stock eliminator. I got the engine some months later, put it in the car and took it to the track. It was calculated at 412 hp and I was pretty happy with it. Than in my forth race the engine broke! I took it out of the car and put another 429cid engine in it and drove it for a while until it needed restoration. Then I took the SCJ apart. Then I saw what happened. Instead of using steel cups for the valve springs they had used freeze plugs! One of them had been chewed up and that led to a failure of the retainer and the locks that made the valve loose and it hit the piston and broke the rod. When I took off the head, I saw a gaping hole where there should have been a cylinder wall. The head was cracked and the piston was upside down in the cylinder. It cost me alot of money to repair the block and I bought a pair of SCJ cylinder heads on e-bay. A friend of mine in Orlando Florida got connecting rods for me and got them bushed for full floating pins. The block is .030 over with TRW flat top stock replacement forged pistons, the camshaft is a Madden custom ground mechanical cam NHRA legal for stock. With a Cloys double roller timing chain, Ford NASCAR oil pump, Mallory Unilite ignition and a Holley NHRA stock replacement carb. The cylinder heads were worked over and got Pioneer valve train, Manley rockers and Milodon stainless steel valves. The headers are from Hooker and the exhaust is 2.5" free flow with original exhaust tips. The engine has been in the car since 2003 and is working fine both on and off the track. The next thing that I'm going to do is restore the body which by the way doesn't need much of a restoration. My brother painted the car in 1990 and it was done without any primer or basic work, he just sprayed the car so it would be in one color, it had four different red colors when I got it in 1987. The right front fender and the right door did still have the original paint. We bought the paint after the original paint code, and we hoped that the paint would last for two maybe three years. Well it's 2009 now so its 19 years!!!
I hope it won't take me that long to restore the Mustang.
Halfdan Sigurjonsson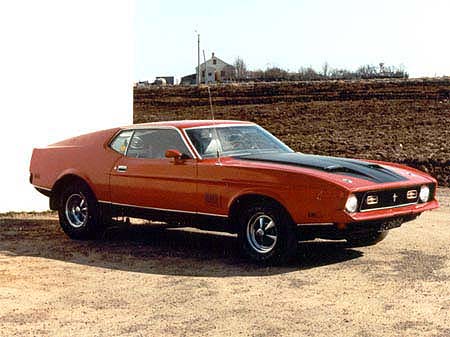 Sitting and waiting.
The Mustang in New York waiting to be transported to Iceland.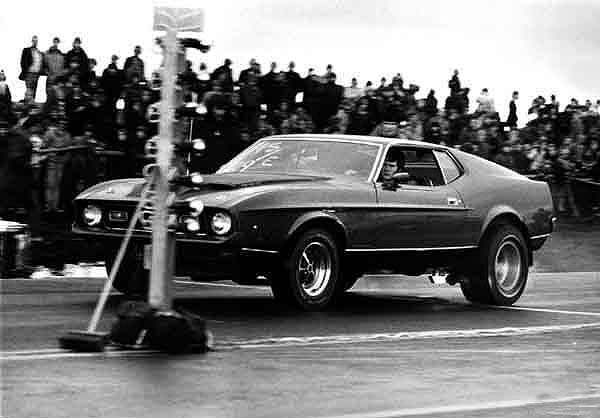 Just arrived and right away on the race track in the first race on the new track (1978).
Photos from the 34th Annual Car and Bike Show held by the "Icelandic Drag Race Club".